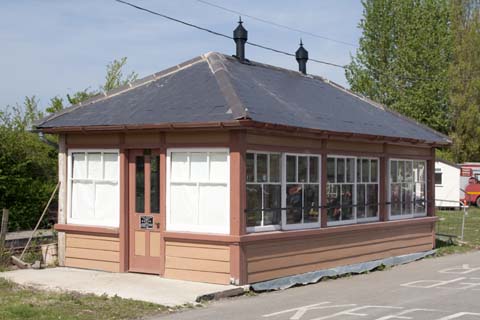 This signal box has been restored by the trust for use as a toy museum, having previously been used for various purposes down in what is now the locomotive yard at Toddington. It was originally built for use at Honeybourne North Loop Junction and was opened on 1st August 1904 when the first section of the Honeybourne Line was opened through to Broadway. It was made redundant by the GWR in March 1933 when control of the junction was transferred to Honeybourne Station South box. It was then purchased by a local man, erected in his garden and used as a garden shed until 1981, when it was no longer needed and was donated to the Gloucestershire Warwickshire Railway. One of our founding trustees, Audie Baker, was heavily involved in its acquisition, dismantling & re-erection at Toddington.
Audie unfortunately passed away at the early age of 53 in August 2009 and his widow Helen asked for a commemmorative plaque to be placed somewhere at Toddington as he had also been a founding member of the Gloucestershire Warwickshire Railway Society, joining at its inaugural meeting in Willersey Village Hall in 1976 as member no. 5. In addition he was the author of a comprehensive book on the line 'An Illustrated History of the Stratford on Avon to Cheltenham Railway' published by Irwell Press ISBN 1-871608-62-7. After his illness had forced him into a more sedentary lifestyle, Audie took on the role of photo archivist at Kidderminster Railway Museum which was located nearer his home in Redditch.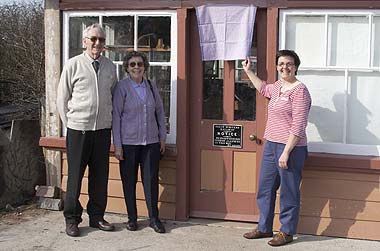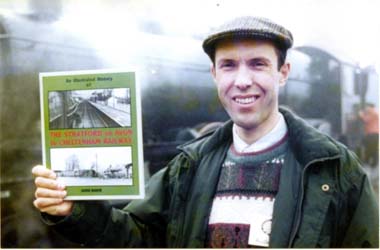 Above left : Helen Baker is about to unveil the plaque to her husband Audie as his parents Maurice & Sue stand by whilst above Audie is seen holding a copy of his book at the time of its publication in 1994.
Below is a photograph as it was in 1967 still in use as a garden shed taken by G H Tilt. The ground floor section was not re-used at Toddington as it was deemed to be too rotten. Other pictures follow of the top half after re-erection in the locomotive yard in 1983 and of the move taking place to relocate it in its current location.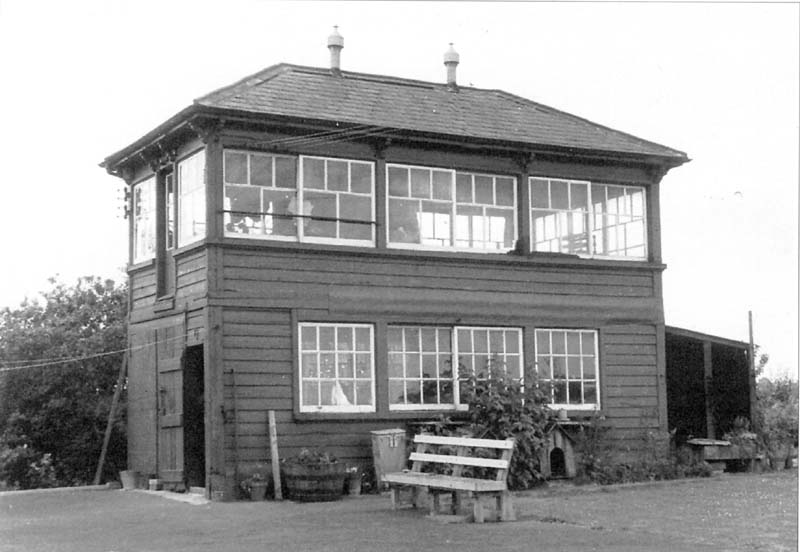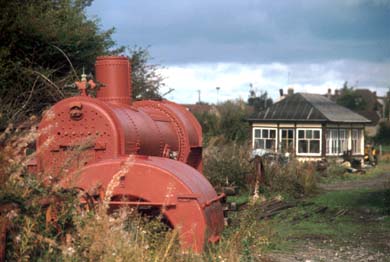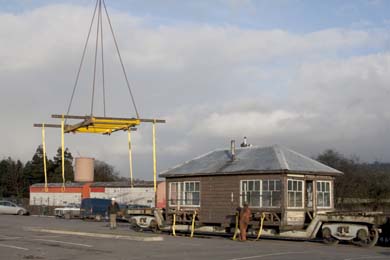 Current facilities in and around the box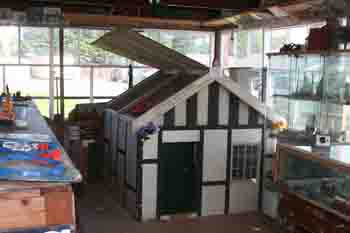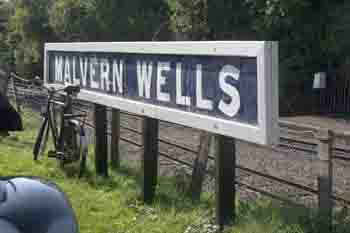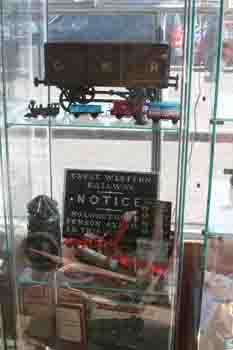 One of the larger features inside the box is this 1920s built Wendy House seen in the picture above left; whilst one of the many glass cases displaying different categories of toys is seen to the left.
Above right is one of the former Great Western blue enamel running board signs from Malvern Wells. Vehicles are featured below with the restored Morris Commercial lorry owned by Greg Wigg standing beyond the box which is displaying the replica cast iron nameplate now fitted to the side. On the right below stands the Scammell Scarab unit donated by Nick Bailey coupled to the box van trailer that was already owned by the Trust.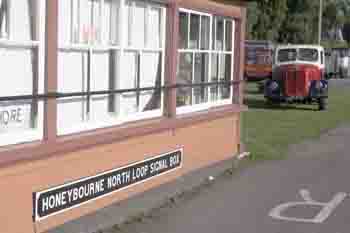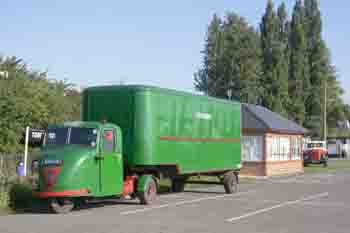 ©2017 The Restoration & Archiving Trust - Registered in England no.1083582